Throughout October, I'm featuring some of the best D'arc Family haunts that have infiltrated my house on Halloween in years past. At the bottom of the post, I'll give another clue to our theme this year!
Since I live in the Western U.S., I thought I'd show off two of my Wild West themes today:
Miner 49er
Trouble came calling when folks dug for the treasure of old Cahoot D'arc and found it buried in a deep mine.
We had a horrible spider taking over one corner…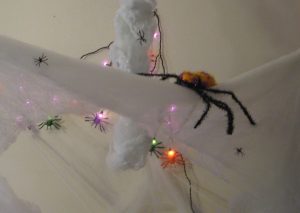 And a bathing "beauty" in a mine cart taking over the other. (How embarrassing!)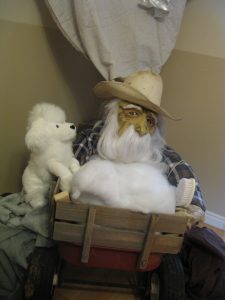 When guests got to the cavern where the treasure was uncovered, they were stopped by the ghost of Cahoot D'arc, a fearless outlaw who stole the treasure a century ago.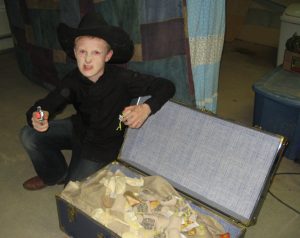 Luckily, Cahoot was late for supper, so his Ma dragged him off, and trick-or-treaters were able to snatch some of his treasure to take home with them.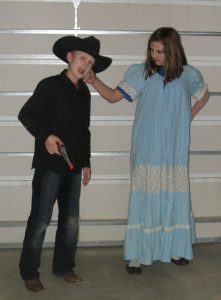 Living in the West means I have kids who are obsessed with horses, so I let them plan one of the haunts a couple of years ago. We wound up with
Ghost Riders!
This was really fun because we have a black horse, so painting white bones on him made him really look like a skeleton horse galloping over the fields.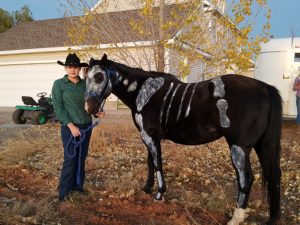 In fact, we scared an adult visitor so much she turned and started to run away!
After a dance off between a ghostly sheriff and these ghost rider outlaws, trick-or-treaters escaped and got a treat.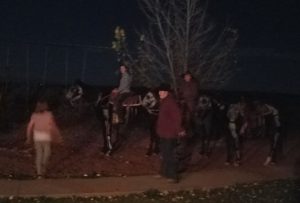 This year, if you dare to venture our way, you might find yourself under a curse, so beware! Stay tuned next time to find out what the theme will be!