This post contains affiliate links. If you use them to purchase something, I may earn a small commission at no additional cost to you.
CAMP LEGEND
Suitable for kids ages 8 up through 12.
With snow on the ground, it might not be time for summer camp yet, but you can still send your young book worm (and friends!) off to Camp Legend for the holidays! Take a gander at this cool book trailer and tell me if you don't think they'd have a blast with this:
Filled to the brim with creative magic, Camp Legend lends itself very well to creating a gift-giving adventure for your child!
Though it isn't necessary to gift the book before you create your own Camp Legend adventure from the ideas below, your child will understand what's going on a lot better if they've read the book first.
I recommend getting the hard cover of Camp Legend: it doesn't cost much more than the paperback, it will last a lot longer, and it's just plain gorgeous! But you can get the book in any format that works for you – soon, even audio!
The story starts off with a bang as Taj witnesses the tooth fairy being kidnapped by The Red Claw gang! He's shuttled into the Legendary Witness Protection Program (LWPP) and sent to Camp Legend for his own protection.
I loved Taj! He's the only non-believer in a camp full of kids who have faith in the likes of Santa Claus and the Tooth Fairy. Even though he's surrounded by magic, he still has to cope with everyday challenges most kids face—like bullies, being different, and learning how to navigate new friendships. I think kids will really relate to Taj and enjoy his adventures!
Start off the Camp Legend adventure in your home with a ransom note, threatening danger from The Red Claw gang if your child doesn't get to Camp Legend right away! (Since children are driven to camp on a school bus by Mr. Friendly, you can even make your note in the shape of a bus.)
Use the free font BlackCasper to create your ransom-style note.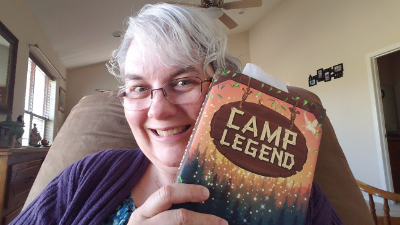 If your child wants to invite friends and make a party of it, that's even better! Don't forget to pick up some play glasses for non-believers, so they'll be able to "see" the magic around them, just as Taj does.
The first order of business is to assign each child a tent, based on their interest and personality. Here's the 10 groups at Camp Legend:
Molars: Taj and his friend Harvey are in this group. Harvey loves dentistry. The girl Molars, on the other hand, are all about tutus and sparkly glitter.
Clockstoppers: Very punctual, I imagine, since their mentor is Father Time himself, the director of the camp.
Squatches: Mentored by Big Foot, these guys love nature, running wild in the forest, and going barefoot.
Keeblers: Aspiring elves who enjoy making toys and baking bite-size snacks. Some even go into Santa Claus security.
Eggheads: Mentored by the Easter Bunny and the Easter Chicken, they like decorating eggs and playing Capture-the-Flag-style night games.
Mama's Helpers: These kids enjoy cooking and gardening. They can be oh-so-sweet, but don't cross them. They all have tempers like volcanos.
Valentines: These attractive kids use their good looks to get what they want. They can be match-makers, or match-destroyers.
Dreamers: A sleepy bunch mentored by the Sandman.
Mischiefs: These leprechaun-like kiddos love a good prank and thrive on April Fool's Day.
Haunts: With the Pumpkin King as their mentor, they enjoy throwing costume parties.
Camp Legend is all about keeping kids busy with fun activities. Taj and his friend Harvey get the short end of the stick when their tent captain assigns them work chores instead, but they still manage to squeeze in some crafts and daily yoga. Here are some ideas for your home camp:
What kind of awesome camp would Camp Legend be without mouth-watering camp food? Taj's friend Sadie is nothing short of a gourmet under the watchful eye of Mother Nature. Try out some of Taj's favorites at your own home camp:
If you put together a Camp Legend at home, I'd love to hear about it! Let me know in the comments.