Welcome to another Phantom Friday!
And happy Valentine's Day to everyone!
Want something unique and delicious to make for your significant other today? Well, I've got a treat in store for you: banitsa!
I mention this Bulgarian pastry dish a couple of times in the Andul Guardians books, so I thought I'd try my hand at making it and discover who's the better chef: Deryn, or me. Read on to find out how it went.
The main ingredient of banitsa is phyllo dough. I've never worked with these paper-thin sheets before. I wasn't even sure that the only grocery store here in my tiny town would have it. But, hurray! I found some in the frozen aisle!
Here's the ingredients I used to prepare my banitsa:
15 sheets phyllo dough
12 Tbsp butter
1 cup Greek yogurt
4 whole eggs
1 container feta cheese (8 ounces)
1 egg yolk
Salt and pepper to taste
A 10-inch springform pan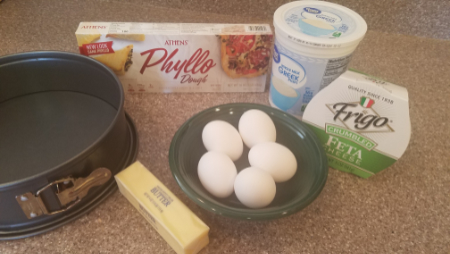 Now, if I were a purist, I would use the Bulgarian variety of yogurt and cheese, but since I live in a tiny corner of the U.S. where such ingredients are impossible to find, I used the next best thing: Greek yogurt and Italian cheese.
The first thing I did was to thaw the phyllo dough, of course. I found that phyllo is rather difficult to work with: it tears easily, doesn't like to be pulled apart at the seams where the dough was originally rolled up, and dries out after awhile, making it even harder to work with. (The dryness was probably thanks to my desert climate, so if you're someplace humid you might have better luck.)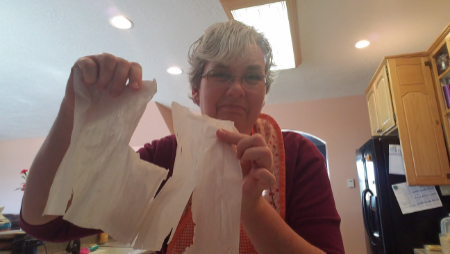 After the dough was good and thawed, I preheated the oven to 400 degrees Fahrenheit, sprayed my springform pan with nonstick spray (maybe not strictly necessary, but it's best to be prepared), and melted the butter in the microwave. Then I whisked together the yogurt, eggs, and feta cheese.
Now came the tricky part: assembling it all.
I was following a traditional recipe that called for slathering each thin sheet of phyllo in lots of butter. I thought this would be much easier and less messy to do on a cookie sheet. (Please forgive my ugly cookie sheet in the photos!) I really liked doing it this way, as I was also able to heat the pan a little in between slathering sheets of dough to make the dough a little easier to work with.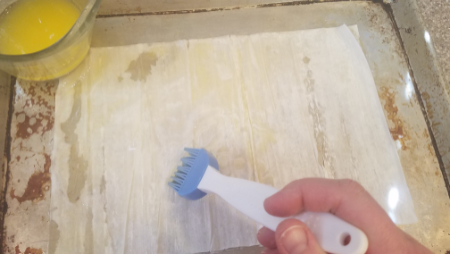 So, the assembly process!
With a food brush, spread some of the melted butter across the cookie sheet.
Carefully (and I mean carefully!) peel 2 sheets of dough away from the stack and place them on top of the melted butter in the cookie sheet. If you do end up tearing the dough, it isn't the end of the world – just try to piece it together into a whole sheet.
Spread more melted butter over the top of these two sheets. It's important to slather the edges to make them moist enough to pick up.
Peel away one more sheet from your stack and place it on top of the two in the cookie sheet. Slather it with more melted butter.
Now spread some of the yogurt/cheese mixture across the phyllo on the cookie sheet. Try not to get it too thick, as you'll next be rolling it up, and extra will squish out the top.
Like I just said 😉, carefully roll up the phyllo sheets the long way into a long snake-like tube.
Pick up the tube and nestle it into the springform pan against the outside.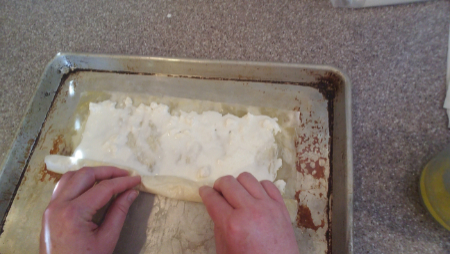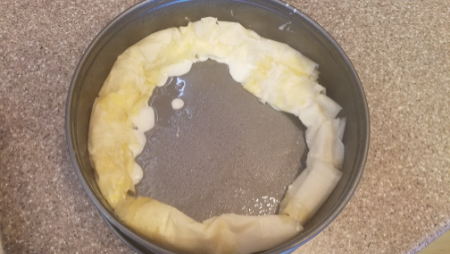 That was fun, wasn't it? Now, you get to do it 4 more times! Hurray!
But first, use a paper towel to wipe up any filling that squished out when you rolled up the dough. Then put the cookie sheet in the oven for a minute or less, until the butter left on it melts again. Now you're ready to start the process all over!
When you finish rolling up the next sheet of phyllo with its filling, continue coiling it around the outside of the springform pan. With each new sheet, you continue coiling, moving toward the center like a snail's shell.
For the size of my springform pan, it took 5 long tubes of dough to fill it. My original recipe only called for 3, but I'm sure it depends on the length of the dough you buy and the size of your pan. Just adjust as needed.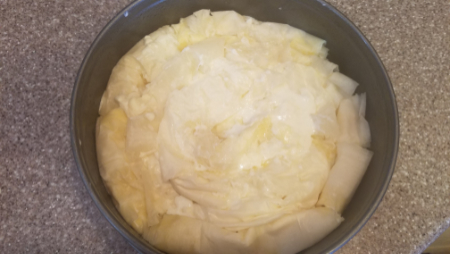 Once you have your pan filled with coiled dough snakes, whisk an egg yolk in with the remaining butter and pour it all over the banitsa. (If you have a lot of butter left over, you might want to place your springform pan on a cookie sheet to prevent the butter from leaking out the sides and dripping down into the oven.
Bake the banitsa for 25 minutes at 400 degrees Fahrenheit until it's a nice golden color.
You can release the springform edge anytime, then slice the banitsa into pie-like wedges for serving.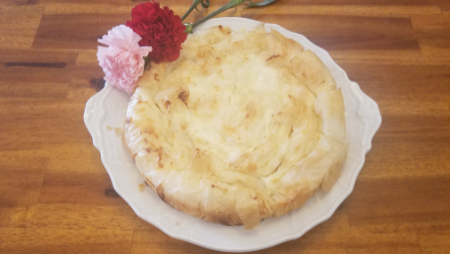 Mmmm! Delicious! The flavor reminds me of cottage cheese. This would be great for breakfast! Brayde (from my book) says this dish tastes great warm or cold, but personally I prefer it warm.
Lucky for me, phyllo dough seems to be forgiving. In spite of the struggles I had with it, the banitsa turned out beautiful! You can also make a sweet version if this is destined to become a pretty Valentine treat.
So, who won the chef contest? I think I'll have to give this win to Deryn: she must be one patient cook to work with that phyllo dough! Of course, she has practiced a lot more than I have, since banitsa is one of Xanthe's favorites. 😉
Next week, I'm doing a FaceBook LIVE reading of an excerpt from The Phantom Nightingale, so don't miss it! See you on the next Phantom Friday!