One of my favorite things about being an author is interacting with fans who enjoy reading my books and answering their questions about writing. I had a young man contact me the other day. He's writing a report in school about a Utah author, and he chose me as his subject. How cool is that?! I was so excited to hear from him, and to answer his questions about my writing process.
Being an author can sometimes be a lonely profession. Besides the fact that we sit for hours by ourselves, imagining weird stuff in our heads and trying to write it down in a coherent fashion, we often have an inferiority complex in the professional world – especially if our books are getting lost in the ocean of books out there. I have been sorely tempted lately to simply abandon my dreams and pursue a "real" profession.
(What a writing career sometimes feels like.)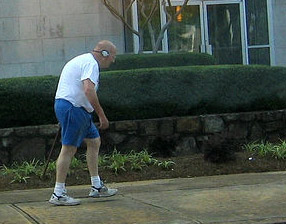 Photo credit: Olaf via VisualHunt.com / CC BY-SA
But it's moments like this, when someone shows genuine appreciation and enthusiasm for what I love to do, that encourage me to shake myself off and stand up to take another step forward and try again. Dear readers: you are my inspiration!
(How it feels when readers inspire me to keep going.)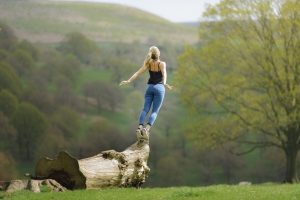 Photo via Visual Hunt
So, I thought you might be interested in the questions my young friend asked, and my answers. They're copied below. Enjoy learning a little bit more about my writing, where it came from, and how I do it. And thanks for reading the words I write! It really means a lot to me!
Where did you grow up in Utah?
I grew up in Salt Lake, Orem, Springville, and Spanish Fork (we moved around a bit when I was a kid). I was 11 when my family finally settled down and built a house in Covered Bridge Canyon, which is a little side canyon not too far into the mouth of Spanish Fork Canyon. I loved growing up there, because I lived on the side of a mountain. I could hike up my "back yard" and climb to what I called the "Little Meadow" where I could sit and look out over the mountain peaks and the sky and just think. It was a great place for inspiration. I still love to go outside and just look at the sky, especially at night when there are so many stars. 😉
What is your favorite book and author?
Your second question is a toughie, because there are so many books that I love. I've been a bookworm as long as I can remember. I used to spend my summers devouring one book after another. Some of my favorites from childhood were The Chronicles of Prydain by Lloyd Alexander and Sherlock Holmes. I also loved Nancy Drew and had a goal of reading every book in the series. One of my very favorite "grown-up" series is The Windrose Chronicles by Barbara Hambly. I've read the third book, Dog Wizard, so many times, it literally fell apart. (I haven't gotten myself a new copy yet. Hmmm. Need to do that.) My more modern favorites include anything by Brandon Sanderson (especially his Alcatraz and Reckoners series), The Graveyard Book by Neil Gaiman, Shadows of Empyriad by Josi Russell, and I just finished Nightforged by Carrie Summers.
How did you discover you like writing?
I honestly don't remember the moment when I discovered I liked to write: it was too long ago. (Ha, ha!) I'm a pack-rat, so I've kept a lot of the first things that I wrote. When I was young, most of my writing imitated my favorite books. So, of course, I had a Nancy-Drew-clone named Julie Jones who ran around solving mysteries with her two best friends. I even drew the pictures for those books! When I was about your age, my English teacher told the class she would give extra credit for original short stories. I didn't need the extra credit, but I jumped at the chance to show her my writing. I wrote a lot of short stories that year and handed them in to her. She would patiently correct my errors and write encouraging things in the margins. She told me once that I was a writer, and I felt like I had arrived! The first book in my Soul in Ashes series, Out of the Past, is dedicated to her. (In fact, all the books in that series are dedicated to teachers who made a difference in my life.)
What is the most difficult thing about writing?
The most difficult thing about writing for me has historically been finishing something. 😀 I have so many unfinished books in my attic, it's a crying shame! But the more I practice, the better I get at it! I used to sit down and just write the story cold, without much idea of what was going to happen or how it would end. In the writing community, that's known as a "pantser" – ie, writing by the seat of your pants. But as I've learned more and gotten better and better at writing, I've taught myself how to create an outline first, and that's made a huge difference in being able to finish writing a book – and in writing something I can feel proud of. 😉 Writing is something I'm constantly trying to get better at doing. I read all kinds of how-to books and look for opportunities to learn from other writers so that the next book I write is always better than the one before it.
How many books have you written?
If you're asking about books that I've finished writing (see the answer above), I've written 6. (The unfinished ones are too numerous to count!) One of them was never published – it was the first book I ever actually finished, but I couldn't get a publisher to take it on. (I was just a beginner, after all.) It's a science fiction story about the exploration of Mars. The first book I published is Fury of the Storm Wizard – a cross between a Western and a fantasy. Last year, I finished Soul in Ashes Season 1, which is a set of 4 fantasy novellas (each a little shorter than a full book) set in a world that has a blend of Anasazi, Aztec, and Celtic flavors. Right now, I'm working on outlining a middle grade fantasy. It's going a bit slow at the moment, because my husband is an accountant, and I help him during tax season. So, after April 18, I plan to hit that project hard and get it done by the end of the summer.