Gak! I missed Flash Friday last week. For shame! My only excuse is that I was boating on the lake with my family the day before, and the sun fried my brain. For that matter, I think my brain has gotten regularly fried all summer. To. A. Crisp. So, I will pick through the burnt bits that are left and paraphrase one of my Lego™ heroes: It's Flash Friday, but on a Tuesday!
Here's the prompt for today, by Eric J. Krause: A candle flame flickers in a strange pattern that can only be code.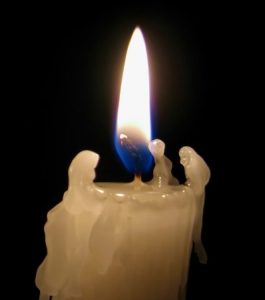 Ghostly SOS
There it was again, that faint light in the distance blinking on and off. Emmaline had to concentrate to see it, but the night was dark, the moon not yet risen. Even at what seemed a great distance, she distinctly saw the light flicker and blink in regular patterns.
She consulted the book on her lap with the electric torch she'd stolen from her father's workshop. Three dots, three dashes, three dots. The SOS signal for distress. Someone needed help.
Emmaline gathered her skirts and left the balcony. The tinny sounds of her father's animatronic band floated up from the ballroom, rising over the babble of voices and laughter. Her parents would never notice her absence. They rarely noticed her at all.
She took the servant's stairs down to the kitchen, giving Cook a wink as she stole a crumpet from the serving tray ready to be swept out of the room.
"Here, where do you think you're going?" whined Jeffrey from his post at the kitchen sink. He scowled at her, obviously angry she hadn't invited him to join the adventure.
"Out," she said in a stuffy no-nonsense voice. He was just a servant, after all, and had no business questioning her movements.
"Be sure and come back afore the party ends this time, Miss," Cook scolded with a wagging finger. "I don't want no more trouble with the Master."
Emmaline took a bite of the crumpet. "I'm not promising anything," she said around the food. Then she whisked out the door before Cook could scold her further.
Her boot heels crunched on the gravel drive as she ran across the yard to her father's workshop. She used a hairpin to jimmy the lock open, and slipped inside. With the torch, she found the moving contraption her father used to motor across the moors. She'd watched him start it several times, winding it with the big key and pressing the buttons to make it go.
She opened the big barn doors of the workshop and pushed the machine out. She had a good memory, and a knack for imitation. It wasn't long before she had the machine running. She hopped back out and slowly closed the barn doors, glancing once toward the house when she thought she saw a shadow cross the yard. But it was only the cat. She climbed back into the driving seat, and then she was off.
The contraption moved faster than anything she'd experienced before, except for maybe a train. This vehicle didn't need tracks, however. It shot forth into the night, going wherever she directed it to with the turn of the wheel. It was exhilarating. The wind swept through her long curly locks and felt refreshing on her skin.
She directed the vehicle to where she'd last seen the light. It was gone now, but she could still see it in her mind's eye.
At length, she came upon a large brooding house, sitting off by itself on the lonely moor, the windows dark. The moon rose behind it, outlining it in silver. It looked abandoned.
Emmaline stopped the contraption and let the motor wind down. Her skirts made a shushing noise as she strode through the weeds to the front door of the house. She hesitated only a moment before banging the front door's brass knocker firmly three times.
"Ain't you got no sense of self-preservation?" Jeffrey's voice whispered from behind her.
She let out a slight yelp as she turned to glare at him. He stood on the bottom step of the porch, hands in his pockets, head cocked to the side.
"What are you doing here?" she hissed.
"When you pull that high-faluttin' mumbo jumbo on me, I know you ain't up to no good. Thought I'd keep an eye on your back, just in case." He rubbed the back of his neck. "You should tell your da to add a bit more room in the back seat of that contraption."
She stamped her foot impatiently. "You go back home this instant, Jeffrey, or I'll—"
His grin was positively malicious. "You'll what? Tell your da on me? Then you'd have to explain why you're banging on the door of a haunted house in the middle of the night."
Emmaline made a frustrated growling sound in the back of her throat. "You are so exasperating sometimes!"
"C'mon," Jeffrey said, waving his arm toward her father's vehicle. "Let's get on home now. This ere no place for—"
"Someone needs help!" Emmaline blurted angrily. "And I'm here to find out who!"
Without waiting any longer for the owner to appear, Emmaline grasped the ornate handle of the door and pushed it open, stepping inside. She would have liked to slam the door in Jeffrey's face, but he leapt after her, slipping in behind and shutting the door himself.
The moonlight streamed in from the bare windows, illuminating furniture covered in sheets like ghosts.
"How do you know someone needs help?" Jeffrey whispered, but his voice echoed through the house as if they stood in a cave.
"I saw a light," Emmaline whispered back. "It blinked in Morse code. It said SOS." Now that they were inside, she began to feel the impropriety of her actions, and a gnawing fear nibbled at her insides.
"You've been reading too many of them pulp magazines." In spite of the scoffing words, Jeffrey's voice quavered, betraying his own fear.
Emmaline spotted a staircase and resolutely took a grip on her emotions. "Up there," she said more firmly. "I wouldn't be able to see it unless it was on the top floor."
They crept up the stairs. Emmaline had to fight back a rising sense of panic every time a floorboard creaked. When they reached the top, she told herself she was being silly and strode down the hall that presented itself, peering into each room they passed. They were all empty.
Finally, they came to the last room. This room, too, was bare. Emmaline walked to the window with Jeffrey on her heels. She could see the lights of her home, far away across the moor, even hear the faint echoes of music and laughter. It seemed so far away.
"Can we go home now?" Jeffrey asked, his tone turning whiny. She hated it when he got whiny.
Emmaline sighed heavily. "Fine. I guess I must have imagined it."
As she turned to leave the room, she realized with surprise that the door was closed. Had Jeffrey closed it when he followed her inside? She reached for the handle, but the knob wouldn't turn. It was locked.
"What did you do?" she blurted angrily.
"Me? I didn't do nothing."
"You closed the door, and now we're locked inside."
Jeffrey's skin turned white as the sheets downstairs. He nearly choked on the words. "I didn't close no door."
"What?"
Emmaline rattled the knob, but the door was stuck fast.
"Emmaline," Jeffrey said.
She turned to see him pointing with a shaking hand to a slim white candle with a long flame sitting on the windowsill. It hadn't been in the room before.
"Do you know the code for SOS?"