I had so much fun writing last week about my Fablehaven book party, that I thought I'd feature another one this week.
I used to be the party planner, if you will, for a reading rewards program at our elementary school. The first one I did, and by far my favorite, was a Harry Potter theme. These books lend themselves really well to generating excitement in kids, since they're so full of magic and wonder. I have kids who are in high school now and still talk about that party. I guess it was pretty memorable. Here are some highlights of what I did.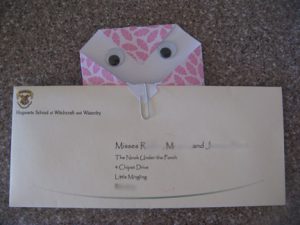 To lead up to the event, and inspire the kids to read, I made Hogwarts acceptance letters for kids when they reached their reading goals. I had "owls" deliver these letters to the school. (By that, I mean I recorded Harry Potter music with owl screeches and played it over the intercom system while plopping papers on the counter, as if the owls were dropping their loot.) Let me tell you, excitement levels were high after that!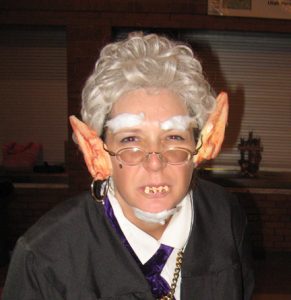 We had some plastic coins at the school, and I commandeered them to become Wizarding World coins. So, the day of the party, kids came dressed in wizard robes and first went to Gringott's Bank where my goblin helpers exchanged their reading points for wizarding coins.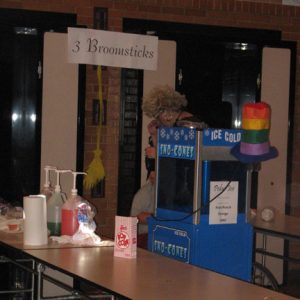 Then the kids went to Diagon Alley, where they could buy fun stuff like Fizzing Whizzbees (pop rocks), chocolate frogs, Bertie Botts Beans (I bought the real deal of these online, but later got frog chocolate molds you could use for a home party–just not at school or commercially), snow cones, popcorn, rubber bracelets in Harry Potter shapes, and other little toys.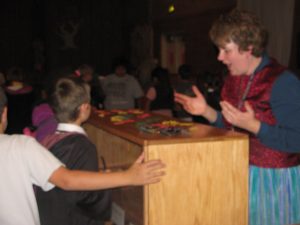 Once the kids were all finished shopping, they got to watch the first Harry Potter movie while eating their snacks. It was a blast!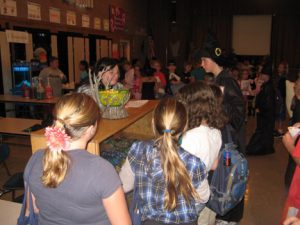 I like to give my best themes double duty, so I planned a Harry Potter bash soon after for one of my kids. Since I've never been able to travel to Florida and experience that impressive theme park, I decided to try and recreate the experience at home.
For the birthday party, I made wands for each guest. Then, I set up a wand store and roped my nephew into acting as Olivander. I had a tall cabinet with a big hole in the back, made for a TV hookup. I stacked the cabinet with cardboard boxes, then I hid behind the cabinet. When the party goer swished their wand, I rattled the boxes from behind, as if the wand had magically made the boxes move. That was my favorite aspect of the party! (Unfortunately, I didn't get a picture of it. I guess that means I have to do it again, right?)
This party was my first attempt at making butterbeer. I've tried it a few times since, and always find it incredibly scrumptious! (I just can't make it too often, because it isn't exactly low in calories, and I already look enough like Hagrid.)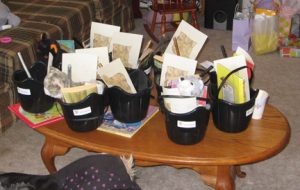 I gave out party favors in plastic black cauldrons complete with marauder's maps and magical candy …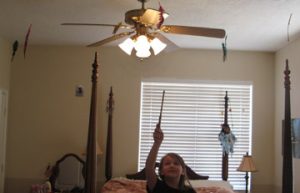 And hung feathers from the ceiling with fishing wire, to look like they were floating. (Look closely at the picture above – those skinny colorful things near the ceiling are feathers–trust me.)
Both parties were great times had by all! Have I convinced you yet to plan your next party around a book? I hope so! Books are AWESOME!