Scroll down if you're reading Tony the Phony and are ready to find out where your last choice took you.
---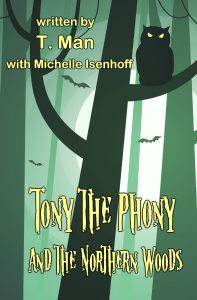 I'm so excited today to be part of hosting a special blog event by T. Man, a 10-year-old author and homeschooler! When I was a teen in my first computer programming class, I set up an adventure story where the reader got to a different ending, depending on the choices they made. I even tried this format later as an adult when I was experimenting with the Internet. I think it's a fabulous idea, and I'm thrilled to be part of T. Man's story today!
Let me introduce you to T. Man: When he was only 8, he partnered with his older brother, M. Man, on a special homeschool writing project that resulted in their first published book,
Tony the Phony and Cursed Mansion
. This year, T. Man went solo and just finished the second book in the series,
Tony the Phony and the Northern Woods.
Written in the engaging style of a Choose Your Own Adventure™, each book is available for only .99 on Amazon. (So click the names above, or the links below to get your very own copies!)
But today T. Man has chosen to share his new book with his readers in its entirety in a special interactive virtual event. Seven different bloggers are hosting sections of the story. The fun begins on T. Man's blog. At the end of each page YOU have to decide how the story will go. Each choice will lead you to a new blog. You have the possibility of landing on any of four endings. Of course, when you finish you can always go back to the beginning and start again. Choose wisely!
"Run down the tunnel!" shouted Tony.
So Ed and Tony sprinted away like they were in football practice. "I don't have a good feeling about this," panted Ed.
"Hide in that side tunnel," said Tony.
"What that…? Why is that there?" said Ed.
"Because that's a wall and we are stuck in here," said Tony.
"What was that?" Ed asked.
Bam! Something jumped from the ceiling.
"It's behind us, so don't move or talk," said Tony.
"Can I kick it?" asked Ed.
Too late. Thwang! Ed fell to the floor clutching his foot. "Whatever it is, it's wearing armor."
Before Tony could say anything else, the thing pulled out a softly glowing gun. A yellow beam of light shot out of the gun and Tony saw the thing was a cave alien. "Ed, we have to get out of here!"
The alien shot again. Tony dodged. "Come on, Ed, let's go!" He reached for his friend but Ed was gone. There was only dust. The alien had shot him.
Tony saw another bright light.
And then there was nothing but darkness.
Go back to the beginning and choose again.