I've been absent from the online social scene for awhile because I took a job last fall as an assistant teacher at an elementary school. For almost 4 months, I taught close to 100 kids a day. I've returned now to working from home, but I miss my many new friends at the school!
One of my favorite lessons to teach was comparing and contrasting with Fractured Fairy Tales. I love things that are creative, and Fractured Fairy Tales definitely fit the bill! It was so fun to help the kids recognize the differences between the original story and the zany, hilarious twists some creative author had put it into.
Then, at the end of the unit, I got to guide the kids in writing their own Fractured Fairy Tale, which was super fun! If there's anything I like better than reading and writing, it's watching kids be creative!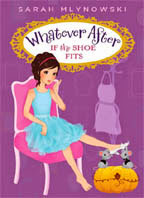 So, in keeping with the theme of Fractured Fairy Tales, I'd like to feature a series my daughter is obsessed with at the moment: Whatever After by  Sarah Mlynowski. Last night, my daughter was reading the second book in the series, If The Shoe Fits, and suddenly she jumped up and declared that she wanted to make brownies!
In this book, Abby and her little brother Jonah go through a magic mirror in their basement and end up in Cinderella's world. They introduce the talented baking Cinderella to brownies, calling them "crownies," and help her sell a bunch at the local market so she can earn enough money to move out of her step-mother's house.
My daughter says: "This is the best book ever! It's my favorite of the series."
When I was growing up, my mom participated in a lot of holiday bazaars where she would sell cute handmade crafts and sewing projects she'd made, as well as delicious lollipops and baked goods. One bazaar favorite, guaranteed to sell out, was her brownies. I've tweaked the recipe a little to resemble the "crownies" in the book. Give it a try!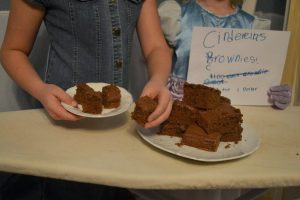 Cinderella's Crownies
1 cup butter
2 cups sugar
4 eggs
1 tsp vanilla
1 1/2 cups flour
1/2 tsp baking powder
1/3 cup cocoa
1/4 tsp salt
2 Tbsp water
1. Preheat oven to 400 degrees Fahrenheit. Grease and flour a cake pan.
2. Cream together butter, sugar, and eggs. Beat in remaining ingredients until well mixed.
3. Pour batter into prepared cake pan and bake for 20-25 minutes in the preheated oven, until a toothpick inserted into the center comes out clean.
4. Allow brownies to cool, frost with chocolate frosting, and cut into generous squares for serving.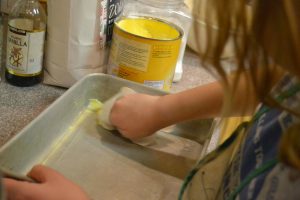 To prepare a cake pan, use a paper towel to spread shortening evenly over the surface of the pan, then add about 1/4 cup flour and tilt and tap the pan until flour sticks to every surface. Dump extra flour back into the bag.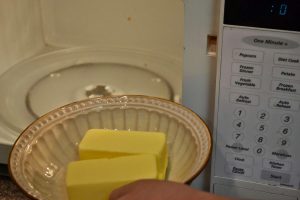 Soften the butter for about 20 seconds in the microwave.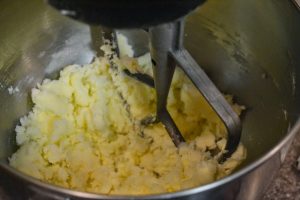 Cream the butter and sugar together in a standing mixer, or use the back of a spoon to mash the sugar into the softened butter.