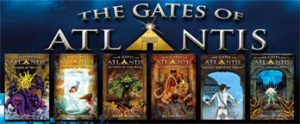 I've been really excited about a new series that arrived this week on the middle grade shelf: The Gates of Atlantis! Each book in the series is written by a different author, much like the Spirit Animals series, or 39 Clues. It's interesting for me to see the different spin each author gives this very imaginative world.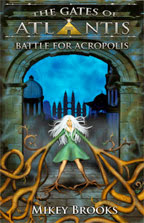 I had the opportunity to receive an advanced reader copy of the final book in the series, Battle for Acropolis by Mikey Brooks, and I've been waiting anxiously for the book to be released so I can share my excitement about it with the rest of the world!
From the very first page, this book reeled me in: hook, line, and sinker! It starts out with a bang when Talon accidentally sets fire to the library, using magic power he doesn't understand and can't always control. His emotions do more than run away with him whenever he's upset: they cause terrible things to happen. Orphaned since birth, Talon knows he doesn't belong in a "normal" life with his foster parents, and agrees to run away with his foster sister, Hattie, in search of Hattie's grandmother. What they find is a magical city under the sea that desperately needs their help to win a civil war.
For me, the best aspect of this novel was the growth of the main character. At the start of the story, Talon is a lonely kid with a surly attitude. I had to laugh every time he got annoyed with Hattie's nonstop chatter. But through her easy acceptance of his strange magical power, and her resolve to be his friend, no matter what, Talon slowly comes around and turns into a strong leader that the other Atlantian kids can look up to.
I thought the characters were very strong and easy for kids to relate to. My personal favorite was Willy, the friendly truck driver who helps out Talon and Hattie. I also admired Hattie for her optimism in the face of incredible odds. It gave the book a positive undertone, driving home a message of perseverance and commitment.
The food scene I picked from this book takes place early on, while Talon and Hattie are on the run. They spend the last of their money on breakfast at a truck stop. Nearby, a friendly truck driver is eating the Grand Slam breakfast: pancakes, sausage, eggs, hash browns "you name the breakfast item, and this man had it." With their meager funds, Talon and Hattie can only afford a couple of eggs with toast. Talon asks for his to be scrambled. Lucky for Talon, Willy the truck driver has a big heart and later shares his leftover sausage.
My kids can be picky eaters (highly unusual, I know), and one of my girls refuses to eat scrambled eggs…unless they're cooked "Grandma style." Her grandma has a special way of blending together the eggs with cheese and milk to create the perfect combination!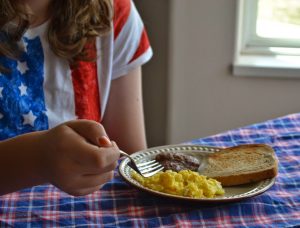 Grandma Style Eggs
serves 6
12 eggs
1/4 cup milk
3/4 cup shredded cheddar cheese
1 tsp salt
1/8 tsp pepper
1. Crack eggs and empty into a large saucepan, making sure you don't drop any shells in.
2. Add milk and sprinkle with cheddar cheese, salt, and pepper.
3. With a spatula (pancake turner), stir everything together until yolks are broken and ingredients are well combined.
4. Cook on medium high heat, stirring frequently, until eggs are set.
5. Serve with toast and sausage. Add pancakes and hashbrowns for the real Grand Slam!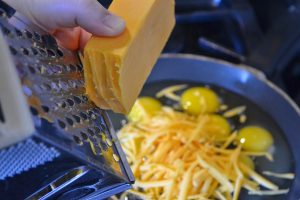 Add grated cheese directly to the pan with the other ingredients.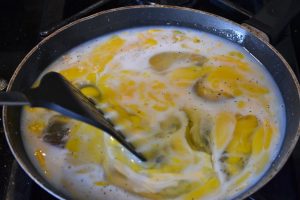 Use the flat end of the spatula to stir the eggs as they cook.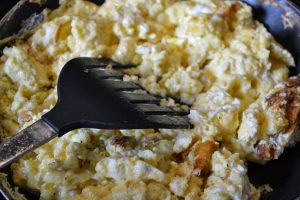 Eggs are set when they are no longer runny, but aren't completely dry.