I am so pleased today to be part of The Dreamkeeper audiobook tour! I have long admired the author, Mikey Brooks, for his skills at producing and promoting some fantastic books. I look up to him and hope I can be like him one day.
First of all, don't forget to check out the GIVEAWAY
at the end of this post for a chance to 
WIN some fantastic prizes!
I was privileged to review the second book in the series, The Dreamstone. My daughter is an auditory learner, and she prefers audio books to the printed variety. For kids like her (who may struggle with reading the traditional way), this series is an excellent choice for hooking them on books! It has action, magic, strong characters, and life lessons all rolled into a neat little package that is sure to please any middle grader. Beyond that, the audiobook is a quality piece of work. The narrator was expressive and highly skilled. He gave a distinct voice to each of the characters that fit them perfectly. It was a pleasure to listen to!
The Dreamstonepicks up right where The Dreamkeeperleft off. Parker and his friend Kaelyn must go back to the world of dreams to rescue Parker's mother, who has been kidnapped by the wicked Queen Mab. They find the dream world in disarray, with dragons attacking willy nilly. Their friend Gladamyr loses his power to shift, and they have no idea where Mab's wandering realm is located. It seems the only way to unravel all their problems is to visit the Crystal Table once again, but what price will the table exact this time?
With each book the author releases, his writing quality gets better and better! I've read all of his middle grade books, and I thought Mikey Brooks really hit his stride with this one! All the characters are solid, with real problems they're struggling to overcome, like Parker's anger at his estranged dad. Through the course of events, he learns how to begin the forgiveness process. I love it when a character grows and becomes a better person by the end of a book, and I found myself cheering for Parker and Kaelyn as they made the difficult choice to stand up for what's right, pitting themselves against the more popular crowd at school. Moreover, their friendship continued to grow and develop in this novel, and I can't wait to see where they'll go from here.
The plot was well-paced and flowed naturally from one hurdle to the next. The only problem I have with this series is that the author likes to end on cliff-hangers, leaving us poor readers begging for the next installment! (Do I hear an evil laugh?)
Kids aren't the only ones who will gobble up this series faster than a plateful of pastries. In my mind, it's right up there with Fablehaven, Far World, and the host of other National bestsellers that have graced the middle grade shelves in recent years.
As I pondered how I could bring this book to life in my kitchen, I remembered the taste testing scene with Mab, about halfway through the book. To prepare for her Majesty's banquet, servants offer her various trays of pastry for inspection. She brings each to her lips and tastes it briefly. If she pronounces them "adequate," the servant can breathe a sigh of relief. But woe betide the servant who offers an unacceptable pastry, as does one poor soul with a tray of fruit covered tarts.
I wouldn't like to be the chef in Mab's kitchen, with my life on the line depending on my skill in pleasing her. But I have a delectable recipe for banana cream pie that I think even Mab would have to pronounce "excellent!"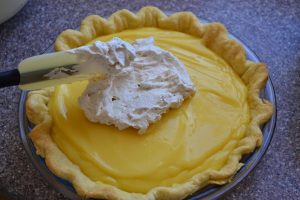 Banana Cream Pie Fit For a Queen
1 1/2 cup flour
1/2 tsp salt
1/2 cup butter-flavored shortening
5-6 Tbsp ice water
1. Preheat oven to 425 degrees.
2. In a medium sized bowl, combine flour and salt. Cut in shortening, using a pastry cutter or two forks, until mixture resembles fine crumbs.
3. Gently stir in ice water (being careful not to add chunks of ice), just until flour is moistened and becomes dough. Add more water if needed, 1 Tbsp at a time. Do not work the dough too much.
4. Turn out onto a floured surface and use a rolling pin to gently "push" the dough into a circle big enough to fit over a pie plate.
5. Fold the dough carefully in half, then in half again. Lift onto the pie pan, placing the center of the dough in the center of the plate. Unfold the dough and press gently into the pie pan. Trim the edges, fold under, and crimp into desired design. Prick the dough on the bottom and sides of the pan several times with a fork.
6. Bake in preheated oven for 15 minutes, or until crust is golden brown. Remove from oven and allow to cool completely before filling.
1 5oz package instant vanilla pudding
1 3/4 cups milk
2 cups heavy cream, divided
2-3 ripe bananas
1 Tbsp powdered sugar
1. Add vanilla pudding to milk and beat well for about 2 minutes. (Follow directions for Pie on the package.)
2. Whip 1 cup of heavy cream until stiff. Fold gently in with pudding mixture until thoroughly combined.
3. Slice bananas into bottom of cooled pie shell until banana slices cover the entire bottom of the pie.
4. Pour pudding mixture over the top of bananas and spread evenly.
5. Place pie in the refrigerator and allow to set up.
6. Meanwhile, beat additional 1 cup of cream until stiff. Add powdered sugar. When pie is set up, cover with whipped cream. Garnish with additional banana slices and serve.
A pastry cutter is a quick and easy way to "cut" shortening into the flour. When your mixture resembles coarse crumbs, you're ready to add the ice water.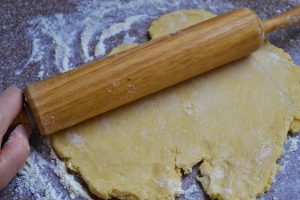 The less you work a pie crust dough, the more delicate it will be. When rolling, think of pushing the dough outward in the direction you want it to expand, rather than rolling back and forth as you would with other kinds of dough.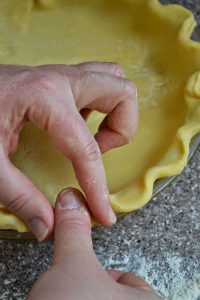 To make a fancy edge, trim the dough so that it hangs over the edge of the pan about half an inch. Then fold the dough under to make a nice smooth edge. Press your thumb down on the dough with the thumb and index finger of your other hand pulling up on either side of your thumb to create a fluted edge.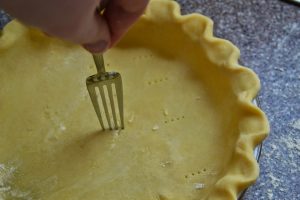 Prick the dough before baking to prevent it from puffing up in the oven.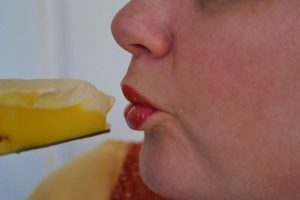 Will this pass the Mab Test?!
About the incredible narrator, Anthony Bianco:
Anthony Bianco is a professional actor living and working in Denver, Colorado. He is a native Oregonian and has been acting and storytelling for the past eighteen years. He received a BFA in Acting with a minor in Shakespeare Studies at Southern Oregon University in Ashland, Oregon. Anthony then went on to receive his MFA in Acting from University of Illinois at Urbana-Champaign. Anthony moved to Denver five years ago and has worked for three seasons with the Denver Center Theatre Company, one season at Colorado Shakespeare Festival and most recently appeared as Jay Gatsby in 
The Great Gatsby
 at the Arvada Center for the Arts and Humanities.

What have you enjoyed most about narrating The Dream Keeper Chronicles?
Bringing the mythology that Mikey has created to life. There is a sense of innocence, wonder, and possibility on the world of Awake and Dreams. Our dreams are one of the nearest things we still have to magic. And discovering the story has helped remind me to continue to look for the magic in the world around me.
How did you go about finding a distinct voice for each character?
Many times Mikey provided some kind of description of the character that would inform the choices I would make. Age, gender, body size/ shape. I imagine how the voices sound when I am reading and do my best to apply those changes when I get in the booth. I would like to think that all of the choices that I made were informed by the text. I did my best to fully imagine what Mikey created and trust that when he is satisfied with the result I have done my job. 
You work as a professional actor; do you find your profession helps you in narrating books?
I find it incredibly helpful. The fact that I am not in front of an audience doesn't make a lot of a difference to me. The act of storytelling is the same no matter what the medium. Many of the skills needed: articulation, breath support, vocal flexibility, emotion (to highlight a few) all come into play when recording. When you are in the booth you have to be hyper aware of every movement and sound. Even though nobody can see what you look like, any extraneous movements can cause sounds which can be picked up by the mic. It is essential to have the physical and vocal awareness to keep those sounds to a minimum. At the same time you can't allow that to keep you from bing expressive and energized when telling the story. It can be a tricky balance sometimes. But the years of training help to balance those factors.
Is there a character in the book you related to the most and why?
I think Gladamyr was the easiest to relate to, even though he is a Dream keeper. I love the tortured heroes. Plus, Gladamyr's powers are the coolest! Many of my favorite fantasy characters have been Shape-shifters or have had an ability similar to Gladamyr. It probably appeals to the actor in me, being able to shift and morph would be like the ultimate costume change.
If you were to dream up a nightmare what would it be?
Absolutely terrifying. Probably something similar to Minion, a monster made from a swarm of spiders. When I have nightmares they are the worst. I am usually being chased by a dark formless, shifting shadow (not unlike Gladamyr now that I think about it). There are always lots of teeth and it is fast; constantly changing throughout the dream. The worst nightmares know when to change and get worse when you think it can't get any worse. 
Breath, breath, breath. You can't transition from voice to voice without the proper breath support to fuel the instrument. If it sounds smooth it is a combination of quality editing and quality vocal control by the narrator.
How did you become a book narrator? Did anything specific prompt you to undertake this career?
A friend encouraged me to pursue it. He made the transition from actor to narrator full time and thought I would also be good at it. So, he gave me the initial push. I haven't been able to make that transition fully, though. I am still working and auditioning for gigs in both careers. As well as working at a coffee shop and doing odd work as a ranch hand and landscaper to make ends meet. I am still at the beginning of my narrating career, but what has prompted me to continue to pursue it is the flexibility to create my own hours, work from home, and the complete artistic control of the storytelling.
About the amazing author, Mikey Brooks:
Mikey Brooks is a small child masquerading as an adult. On occasion you'll catch him dancing the funky chicken, singing like a banshee, and pretending to have never grown up. He is the author/illustrator of the best-selling middle-grade series The Dream Keeper Chronicles, The Stone of Valhalla, and The Gates of Atlantis: Battle for Acropolis. His picture books include the best-selling ABC Adventures: Magical Creatures and Bean's Dragons. His art can be seen in many forms from picture books to full room murals. He loves to daydream with his three daughters and explore the worlds that only the imagination of children can create. Mikey has a BS degree in English from Utah State University and works full-time as a freelance illustrator, cover designer, and author. As a member of the Emblazoners, he is one of many authors devoted to 'writing stories on the hearts of children' (
www.emblazoners.com
). You can find more about him and his books at:
www.insidemikeysworld.com
Check out the books for yourself!
The Dream Keeper
The Dreamstone