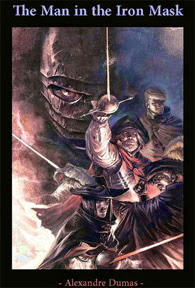 One of my favorite classic adventure novels is The Three Musketeers, by Alexandre Dumas. I love the bond of brotherhood between the 3 Musketeers and D'Artagnan! I love the sword fights and the action! I love the devious plots and the twists and turns! It's just my kind of book.
When my daughter decided to host a murder mystery party for her birthday this month, I couldn't resist the lure of writing the script for it myself. Because her birthday falls on Bastille Day, she is obsessed with all things French. Using a Dumas novel seemed a natural for the backbone of the mystery game. I chose one of the later novels in the Musketeer series, The Man in the Iron Mask.
It took me about a week to pull it together. I tried to design the game so that it can be played over and over again, with a different culprit each time. I wrote character dossiers, made playing cards, and figured out the rules. I was working on finishing it and printing everything right up until the party started!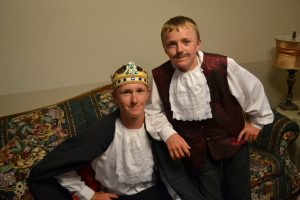 The guests all arrived in fantastic costumes, and I had a blast taking their pictures. I think they all had a good time, interrogating each other, and "dueling" (using dice) to discover everyone's secrets and solve the four mysteries woven into the game.
I originally intended to serve "French" foods for the meal (French fries, French bread, etc), but because I spent so long writing the game, I didn't have time to cook, so my fabulous husband came to the rescue with several boxes of pizza (teenagers like that best anyway, right?). To integrate it properly into the game, we explained that France had recently conquered Italy and stolen their food.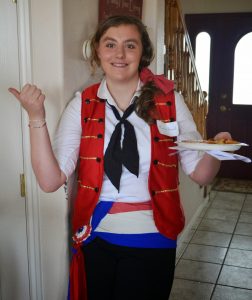 Most of the guests were surprised to find the game was based on a classic novel. I don't think they realized that musty old "classics" could be such fun! Turning a novel into a mystery game was a great way to introduce a new book to young readers and bring it vibrantly to life. I may dabble in more of these adventures in the future!
Vive la France!