I wrote a post awhile back about taking a vacation into books. Since then, my little brain has been churning away, and it occurred to me that there are a lot of references to food in books. Since I love cooking, and I love reading, it seemed like a union made in heaven! What better way to bring the fantastic world of books into my real world than through a doorway in my kitchen? Sound like fun? Come along, and let's step inside a book.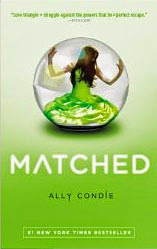 I recently read Matched by Ally Condie and loved it! Throughout the course of the book, Cassia learns how to become independent from a government that controls everything: down to the type and amount of food you eat! If I lived there, I'm sure I would finally achieve that optimum thinness I've been striving for my whole life.
At the beginning of the book, Cassia goes to her Matching banquet, where she will find out the identity of the person the government has decided she will marry. Since this is a special occasion, Cassia and her parents are served a delicious meal described as "…a dance, as though this is a ball as well as a banquet." (What an awesome description!) The crowning jewel of the meal is the chocolate cake with fresh cream.
Since we don't live in that strait-jacket society, we can eat chocolate cake whenever we want! (As evidenced by the size of my waistline.) But you might want to serve it at a fancy dinner to get a real feeling for the book. (After you've read it, of course–which I highly recommend!)
Whenever I need chocolate cake for a birthday, special occasion, or that midnight chocolate craving 🙂 I pull out this old family recipe. It makes a cake that is moist and spongy without being too light or too heavy. Add a dollop of whipped cream, and it's heaven on a fork!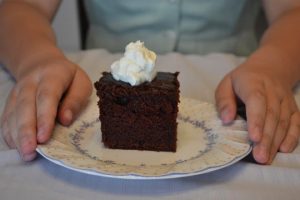 Matchmaker Chocolate Cake
1 cup buttermilk
1 Tbsp baking soda
3 cups flour
2 cups sugar
1/2 cup cocoa
1 tsp salt
1 cup vegetable oil
2 eggs
1 cup boiling water
Preheat oven to 350 degrees and grease and flour a 9″x13″ baking pan.
Mix together buttermilk and baking soda. Set aside. In a large, separate bowl, combine flour with sugar, cocoa, and salt. Beat in oil, eggs, and buttermilk with a mixer on low speed. Add boiling water and mix well.
Pour batter into prepared pan. Bake in preheated oven for 50 or 60 minutes, or until a toothpick inserted in the center comes out clean. Allow to cool, then serve with freshly whipped and sweetened cream.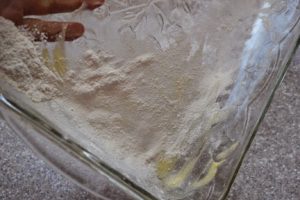 To grease and flour a pan, use a paper towel to spread shortening all over the inside of a pan. Then add about 1/4 cup of flour. Tilt and tap the pan until the flour glides over every surface with shortening. It will stick to the shortening and keep the cake from sticking to the pan! Discard any extra flour.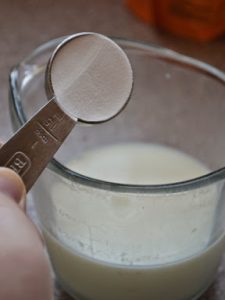 Add baking soda to buttermilk. If you don't have buttermilk, just stir 1 Tablespoon of lemon juice into 1 cup of milk.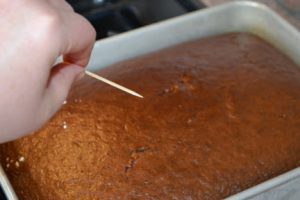 Test the cake to see if it's done by poking the center with a toothpick. If cake batter clings to it when you pull it out, the cake needs to be baked longer. If the toothpick comes out clean, you know the cake is done!