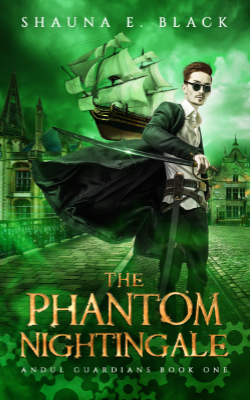 The Phantom Nightingale
Xanthe's crew might all be kids, but that doesn't mean he plays it safe. He saved them all once, and now they'll go anywhere with him. But when news of a potential lost sister comes to light, Xanthe will lead them on their most dangerous mission yet – into the heart of the empire that wants him dead or alive.
Avilene's plans after graduating from the empire's most prestigious academy include escaping the overbearing academy director that has dictated the course of her life since childhood. They do not include being kidnapped by a renegade airship captained by the notorious Phantom Nightingale.
When their purposes clash, can Xanthe persuade Avilene to forego her duty to bring him to justice, or will he lose his crew and his freedom in a desperate attempt to heal the scars of his past?
A new swashbuckling adventure full of magic, airships, and a whole lot more. If you enjoyed Scott Westerfield's Leviathan or Philip Reeve's Mortal Engines, you'll love The Phantom Nightingale. Start reading today!